Post by 187um Killa on Dec 18, 2016 9:04:13 GMT -5
To save making a different thread for every company, I figured it would be easier to have results for companies like All Japan, Big Japan, W1 and DDT all in this thread.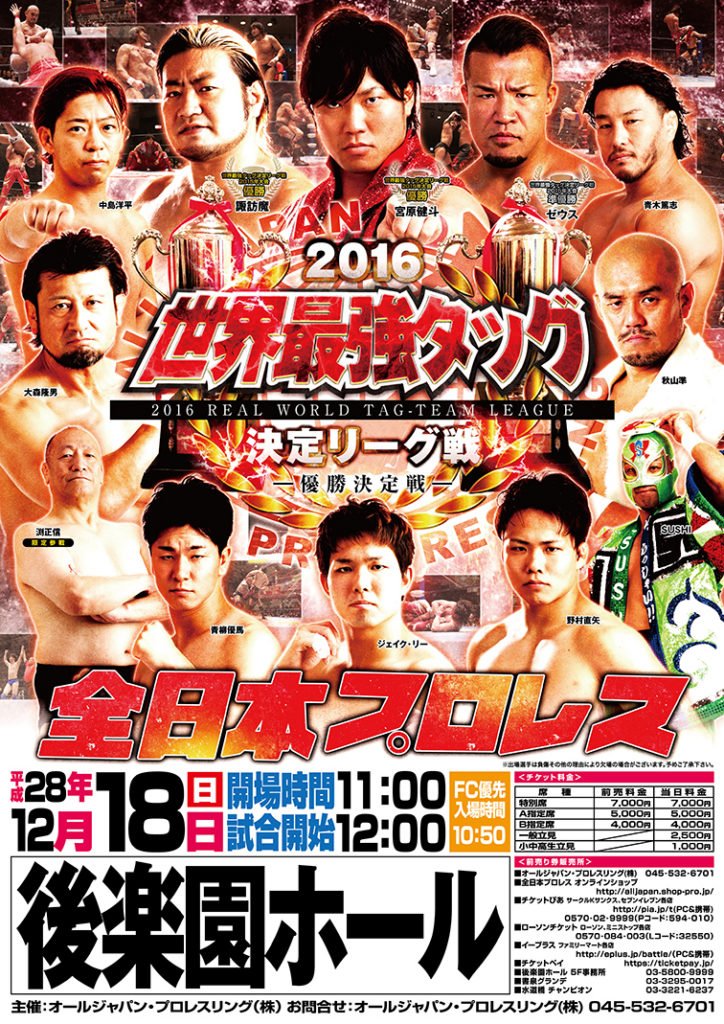 All Japan Pro-Wrestling "2016 Sekai Seikyo Tag League", 12/18/2016 [Sun] 12:00 @ Korakuen Hall in Tokyo
1,244 Spectators
(1) Yohei Nakajima & SUSHI vs. Black Tiger VII & Shin Black Tiger (both FREE)
◆Winner: BT VII (6:41) with an Ultra High School Class School Boy Yohei.
(2) Naoya Nomura, Yuma Aoyagi & Ryuji Hijikata (FREE) vs. Koji Doi (W-1), Kumagoro (W-1) & Fuminori Abe (Sportiva)
◆Winner: Aoyagi (9:20) with a Fisherman's Suplex Hold on Abe.
~ It appears nothing is finished between the All Japan rookies and W-1 rookies.
(3) Osamu Nishimura & Yutaka Yoshie (both FREE) vs. Ryoji Sai & Rikiya Fudo (both LAND'S END)
◆Winner: Nishimura (9:02) with a Ground Cobra Twist on Fudo.
(4) Masanobu Fuchi & Ultimo Dragon (Toryumon MEXICO) vs. Mitsuya Nagai (DRADITION) & Takeshi Minamino (Toneri Family)
◆Winner: Fuchi (11:13) with a Small Package on Minamino.
(5) 2016 Tag League Special Tag Match AvsB: Zeus & The Bodyguard (FREE) vs. Kengo Mashimo & Tank Nagai (both K-DOJO)
◆Winner: Zeus (11:05) with a Jackhammer on Tank.
(6) Special 8 Man Tag Match: Jun Akiyama, Kendo Kashin (FREE), Masao Inoue (FREE) & Koji Iwamoto (Sportiva) vs. Suwama, Atsushi Aoki, Hikaru Sato (Pancrase MISSION) & Super Tiger (RJPW)
◆Winner: Suwama (14:47) following the Last Ride on Iwamoto.
~ Suwama with the win as he declared that DARK NIGHTMARE shall be removed for All Japan. Though this led to Great Tiger appearing as he offered a spot to Super Tiger to join his group. Great wants a true united Tiger army to take on Suwama's group.
~ It was announced that Joe Doering will return to All Japan on January 2.
~ Then Miyahara's next Triple Crown defense will be on January 15, at Hakata StarLanes, though his opponent is yet to be determined.
(7) Tag League ~ Final Match : (A BLOCK #1) Kento Miyahara & Jake Lee vs. (B BLOCK #1) Takao Omori & Manabu Soya (W-1)
◆Winner: Omori (21:07) following the Axe Bomber on Miyahara.
~ GET WILD win the "World's Strongest Tag League 2016", and this being their 2nd win in 4 years.