Post by adamclark52 on Jan 13, 2018 0:41:35 GMT -5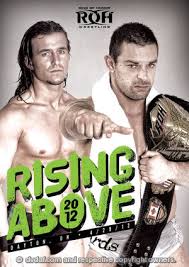 Ring of Honor "Rising Above 2012"
April 29th, 2012
From the Hara Arena in Dayton, Ohio
Commentators: Kevin Kelly and Steve Corino
Chris Silvio & Mohammad Ali Vaez vs. the All-Night Express
This wasn't too bad but there were a few really sloppy spots.
Winners: the All-Night Express
Afterwards Rhett Titus grabs a mic and says the All-Night Express has reached its breaking point. Then Kenny King calls for a World Tag Team Title shot against the Briscoes.
Veda Scott is backstage with Truth Martini and Michael Elgin. Martini says that Samson Walker isn't even in the same class as Michael Elgin. Elgin adds that 2012 is his year and there isn't a man that can stop him.
Sampson Walker says Ring of Honor can't throw anything at him that life already hasn't.
Sampson Walker vs. Michael Elgin w/Truth Martini
This was an okay big man match. There were a couple good, hard-hitting spots but a couple sloppy mistakes too.
Winner: Michael Elgin
BJ Whitmer vs. Kevin Steen w/Jimmy Jacobs
This was okay but kinda pointless and short.
Winner: Kevin Steen
Kyle O'Reilly vs. el Generico
I was too busy drinking cheese out of the jar to pay this match any attention. I wish I was joking but it's Friday night, I haven't gone out for almost a month and this has to be the tenth show I've watched and reviewed in the last three weeks. What I did catch towards the end was pretty good. Kevin Steen and Jimmy Jacobs came out at the end and cost el Generico the pin.
Winner: fifteen minute time limit expired
Afterwards Steen and Jacobs continued to beat down both el Generico and Kyle O'Reilly until Davey Richards came to the recuse. He wasn't very successful then the All-Night Express and BJ Whitmer came to help out too and ran them off.
Veda Scott asks Mike Mondo his thoughts on being one-and-one against T.J. Perkins. The rubber match is tonight and he says he's going to win or something. I honestly wasn't paying attention.
Mike Mondo vs. T.J. Perkins
This match happened.
Winner: T.J. Perkins
2 out of 3 Falls Match
Roderick Strong w/Truth Martini vs. Jay Lethal
The first fall happened via quick roll-up while Truth Martini distracted Jay Lethal.
Winner of the first fall: Roderick Strong
The second fall is much better since it's wrestling. But the crowd really turned on Roddy.
Winner of the second fall: Jay Lethal
All things considered this actually wasn't a bad match. Nothing earth-shattering but considering how mediocre and boring the show has been up until this point it's a f***ing five-star clinic.
Winner of the third fall: Jay Lethal
For the Ring of Honor World Tag Team Championships
Wrestling's Greatest Tag Team vs. the Briscoes (champions)
This was an okay match. It was rough.
Winners: the Briscoes
After the match the All-Night Express comes out and challenges the Briscoes for the Titles. The Briscoes wanted to do it right then but the backstage area broke them up.
Adam Cole is prepared to take the Ring of Honor World Heavyweight Championship from Davey Richards tonight and prove he's not a fluke.
For the Ring of Honor World Heavyweight Championship
Adam Cole vs. Davey Richards (champion)
My wife and I fell asleep when we were watching this match so after an hour nap I put it on again. It wasn't a bad match. I just had a hard time getting invested in it because Davey Richards as a face top champion doesn't work for me (from what I've heard it didn't work for a lot of people). Some of the kicks Davey Richards gave Adam Cole in his pretty face and chest looked pretty rough. He was very rough on Cole actually.
Winner: Davey Richards
Afterwards Davey Richards gets on the microphone and puts Adam Cole and Ring of Honor over.
___________________________________________________________________________________
This show was pretty boring. A lot of the guys in the first few matches were nobodies. I'm not sure if they were the jobbers of Ring or Honor at the time or local talents. I've seen a lot of them before in similar roles at shows from around the same time. But even the matches from the "good" guys did nothing for me tonight. The main event was pretty damn good, the el Generico verses Kyle O'Reilly match and the 2 out of 3 falls match were solid and the Briscoe match wasn't bad. But overall it was a very forgettable and skippable show.
This may have been the smallest crowd I've seen at a Ring of Honor show. It looked like it was at a small hockey arena and it was maybe three rows deep on each side of the ring and a small amount of people scattered in the bleachers. And obviously the bleachers were all for sale because the small amount of people were scattered all over the bleachers, not concentrated in one area. It was kinda sad.
I still have a lot of wrestling videos to work my way through (including five or six more Ring of Honor shows) and I'm hoping to get a good one soon.