Post by BoilerRoomBrawler on Feb 22, 2013 17:19:25 GMT -5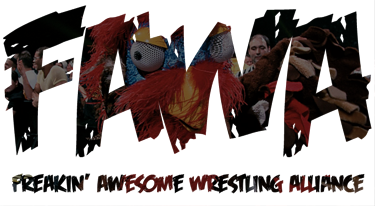 [shadow=red,left,300]NITERAW[/shadow]
TH: Welcome everyone to another spectacular edition of Niteraw! I'm Gorilla Tim Hoss and with me as always is Jesse King on color commentary!
JK: We got some action up ahead. Seth Drakin's Interforums Cup tournament continues as Connor Mackenzie takes on Marshall Wesley Coventry.
TH: And that's not all for the Digital Dragon as he must pull double duty tonight for he must also face Aaron Enigma, the Head Detective, over his FAWA Television Title!
JK: Lot's of action, and plenty sure to please…
JK: …And there goes my enthusiasm…
MM: Ladies and gentlemen, please welcome the FAWA World Champion, "The Predator Knight" Gus Richlen!
*Gus Richlen, with Shaelin Marie O'Hara behind him, heads out, pauses for the pyro, then enters the ring, grabbing a mic and waiting for the "RICKY!!!!" chants to die down.*
Seth Drakin, you can be a coward all you want, but in reality, you still lost.
*MASSIVE CROWD ROAR*
Now that THAT'S out of the way, last week, I proved once again how I'm better than either Drakin or Aaron Enigma when I did what NEITHER of them ever did and that was successfully defend the FAWA World Championship. And once again, I did it cleanly.
Now, if anyone honestly thinks that I still haven't earned my place at the very top of this, no, OUR company-
*He points towards the fans, setting loose another huge cheer*
-then they're f***ing delusional. Simple as that.
I'm not like some people in this company. Some people blame others for their problems in a lame attempt to cover up the fact that they absolutely suck. Some people refuse to give respect where it's earned. Some people are all talk and no action. Some people can't win anything without help.
I'm not one of those people. Never have been, never will be. I haven't come this far with all of you just to turn and spit on you now like some of those in this company have-
*Michael Hayden walks out onto the stage, a smile on his face.*
Is that so, sport? You show respect where it's earned? Because a certain redheaded moron has been calling me "Mr. Irrelevant" for a few weeks now, despite my accolades. Forgive me, it must have been the other delusional jackass this company employs.
Now, I know you're upset that I came down here during your time, but I feel like you've forgotten who exactly you're going up against. You're too busy trying to get the Inter-Forums title that, well, you forgot that Michael Hayden earned this title shot fair and square. I had to go through three other men to earn this spot, so the least you could do is focus on the Lord of the Ring.
My good friend Aaron Enigma might not be champion, but I can promise you that you won't get away with your cheap tactics this time. And when you're the one tapping out to my superior hold, The End, it will be the end of your reign as FAWA Champion.
And then? You can continue your never-ending battle with Seth Drakin if you want. Take on ViVA if you feel the need to settle some old score. But you will not defeat "Hollywood's Own", no matter what you may think.
Because whether you like it or not, the world
is
mine. You're just living in it.[/color]
Oh, look who suddenly thinks he can wear the big boy pants. It's Mr. Irrelevant! The Biggest Leech In Sports Entertainment! Hollywood's Own... what, exactly? Hollywood's Own Joke? Like Heaven's Gate? Like Jack And Jill? Like Showgirls?
Oh, I'm sorry, I forgot. I'm supposed to be inferior to someone who can't win a big match without help! I'm supposed to be inferior to someone who lacks the intelligence to PAY ATTENTION in a multi-person match! I'm supposed to be inferior to a CHOKE ARTIST! I'm supposed to be inferior to someone who tries to cover up for his lack of talent by blaming everyone else for his problems! I'm supposed to be inferior to KING NOTHING!!!!
Hayden, that Chamber Of Horrors must have fried what few brain cells you had left. Because unlike you, I win matches cleanly and without help. I don't bitch and moan and blame other people for my problems. I don't talk and not back up my words. I'm not like you, Hayden. I'm f***ing BETTER. I suggest you go through the records, see all the names I've turned into victims, how many previous so-called kings and lords have fallen to me, and I suggest you shut up and ask yourself how in the hell you are going to beat the combination of the irresistible force and the immovable object. The answer, quite simply, Mr. Irrelevant, is that you can't. Not without breaking my limbs. And I KNOW you can't do that. You don't have the determination in you like I do, like Jonathan Michaels did. That's why you'll always be on the bottom of the ladder, boy. And that why I'm not gonna back down from you ONE. f***ING. BIT.
Again, I had nothing to do with what happened to Connor at Lord of the Ring. It may have worked in my favor, but I can promise you that I would have been victorious even without the presence of the man in black. Because I am one of the best wrestlers this company has seen.
Who else can say that they've accomplished what I have in the span of a year? It was "Hollywood's Own" who became the longest reigning TV Champion before I got screwed by Ryan Blood, but you'll call that bitching instead of saying "Hey, that's not right". I won Battlebowl alongside Jonathan Michaels and earned the right to main event Gookermania, but you see that as piggybacking. I wasn't pinned or made to submit, but you say me wanting another shot at the title is me bitching and moaning. Whereas for weeks, all you did was cry your f***ing eyes out because you and your brother couldn't protect the woman you love! YOU put her in a dangerous position by bringing her here, where men will do anything to gain the advantage. And despite what you might say, the blame for that is on YOUR shoulders. Yeah, The Fallen may be scum for what they did, but you should have kept her as far away as possible before it got to that level.
Oh, but that's not enough, because then we get "The Darkness". Real f***ing scary there pal. You drive Square out of this company, you attack an injured man and drive him out as well, and you're proud of that. I may not be buddy-buddy with Ryan, but there's a code among the wrestlers. The code that says "Don't go into business for yourself". You may have driven Ryan Blood out of this company for good because of your actions, you may have made sure he never wrestles again. How long before you do that to someone else Gus? How long before you snap and end a man's career? Seth Drakin practically begged you to take him out, and if he hadn't, I'm willing to bet you would have loved to end his career. To make sure he never wrestles again.
I know it's eating you up inside that Seth has the Inter-Forums title, which quite frankly you never should have held in the first place. And I know you're itching to get another shot so you can continue calling yourself the Triple Champion. Well, time for a rude awakening Gus. You're facing me for the World Heavyweight title soon. You don't have time to worry about Seth, because you have to focus on me. Because if you waver, if you come into our match and still have thoughts of revenge on Seth, I can promise you I'll knock your ass out. I'll drive every last thought out of your skull as I elbow you, just because I can. I'll choke you out to my superior Gogoplata and show you how it's done. I'll break your goddamn bones just to prove that I can, just to prove you wrong and show you how much f***ing dedication I have. And when I do that, when I win the title fairly, when you can't think of a single excuse as to why you lost, we'll see how much longer you dare to call me irrelevant.
And as for the name "Hollywood's Own", I simply am. I don't represent some pissant city like Peshtigo, I'm Hollywood born and bred. I'm proud of where I come from, I am "Hollywood's Own". And I will be the next World champion no matter what you think.
No, Mr. Irrelevant, the next-
Hold on, my turn to speak to the jackass.
*Shaelin yanks the mic away.*
I didn't think it was possible for someone to be as full of shit as you are but it looks like I was wrong.
I CHOSE to join Ricky. I WANTED to be here with him. If he told me no, I would have come here anyway. So get your facts straight for once in your life, Mr. Irrelevant.
Maybe it hasn't dawned on you yet, although with you that's not a surprise, but the reason we were trying to get that rematch was because I wanted to face Betty. I wanted to be the one to end his career, not the man I love and will continue to love. I wanted Betty to endure even just a fraction of the hell he put me through. I WANTED HIM TO BEG FOR MERCY AND KNOW THAT I WON'T GIVE HIM A f***ING THING OTHER THAN PAIN!
*She stops, tryin to regain her composure as the crowd roars.*
Hayden, I've known this man for most of my life and have loved him almost as long. He's not like you. He's BETTER. And he keeps getting better. That's why he's had all the success he's had. He's not a parasite like you!
*Once again trying to restrain herself, she hands the mic back to Richlen.*
You look kind of stunned. What's the matter, King Nothing? Are you not used to a woman you're not related to saying more than a couple of words to you, or are you so used to rejection that you can just turn that look on at will?
Where I come from, we're a city forged by fire and born from the ashes, not a bunch of pretentious bullshit.
You're nothing but a parasite, Hayden. You're a leech. And do you know what happens to a leech? It gets pulled off and then stomped on. There's no place for a leech here, Hayden. And if you think you're going to leech off of me like you've done with almost everyone else, then you might want to brace yourself for THE SINGLE WORST-
*Aaron Enigma enters while laughing.*
Aaron: Now just hold on a minute. I know you didn't just make fun of the Lord of the Ring. Michael Hayden deserves what he has earned, and that is a title shot for the Heavyweight title. Hell if we want to speak about earning things, how exactly did you earn a title shot at my Inter-Forum title? You went to the higher-ups and they were all too happy to give you a title shot just to try and shut me up. They just wanted to title on someone other than me because they didn't want one person holding all the titles.
Then you won held three titles, and their plan backfired didn't it? You talk about how you earned everything, but let's be honest shall we? You whined to management and they gave you a title shot. The Heavyweight title? You beat me after I managed to survive through Thunderdome.
What kind of accomplishment is that? Where in any of that did you earn a title shot? You are out here trying to badmouth my friend, who earned the title of Lord of the Ring, while all you've earned is the title of "World's Biggest Jackass".
I am not bothered by losing to you, because I know that I am the better man when all is said and done. And soon you and you psycho brother will be handing those tag team titles over to the Hollywood Enigmas.
I didn't think it was possible, but congratulations. You have achieved selective brain death.
The Board, the fans that you've spat on, and I share the same view of things. And we were all sick of you spitting on the history of the Inter-Forum Championship by trying to use it as a stepladder to get into a World Championship match you hadn't earned. Me, I WON a title shot I could use whenever I wanted, and I did it by beating two former champions with a hell of a lot more honor and respect than you and some oversized thug in a ladder match. I EARNED my shot. You didn't.
That's the problem with the Whiny Little Bitch Club. You think you should have everything just handed to you on a silver platter. Then you look down on anyone who actually BUSTS THEIR ASS to get what they can. Well, that's not how the world works, Enigma, and you and Mr. Irrelevant need to wake up and realize that.
Which is why you're still not getting a shot at the tag team championships. In my discussions with the Board, I brought up the subject of a defense. They said that while they had some people in mind, none of them were you. They're like me: they listen to the fans, and there is NOBODY that wants to see either of you with ANY championship.
I'm not like you, Enigma. I'm BETTER. I've proven it three times. And your friend the leech is simply next on my list.
*Aaron just smirks and laughs.*
Aaron: How many times are you going to say you are better before anyone beside you and Shaelin believes you, Gus? Me and Hayden, we're the real stars of the company and everyone but you and couple other idiots know that.
You tell me to listen to the fans, yet I still hear cheers when I come out onto this entrance ramp. I still hear cheers when Hayden wins matches. On the contrary, I heard boos when you beat me for the Inter-Forum championship. I heard boos when you robbed me of my Heavyweight championship.
You keep referring to the fans as one big entity, but that couldn't be further from the truth. You think in generalities, Gus, but I see all the details. I'm able to pick out the cheers from my loyal fans among the sea of boos from the bandwagon people that only cheer for who is champion. Are you saying that all the fans don't want to see me with my Heavyweight title back around my waist?
The world isn't as easy to describe as you think it is, Gus. Notice the little things once in a while. Clearly holding those titles has blinded you to reality, like I've been saying. You only hear the cheers, but you miss the boos that lie hidden underneath them. You need the cheers to feel good about yourself, while myself and Hayden love adversity. Adversity makes us strive to be better, in and out of the ring. Maybe you just learn something from the two of us instead of just insulting us and blinding yourself to the truth.
You two wouldn't know what "truth" is if it bit you on the ass.
Truth is, you two HAVE NO fans other than each other. Me, the same fans that have been showing up to cheer me on ever since I got here are still behind me today, and none of your bullshit can change that fact.
Truth is, I've proven that in a straight-up honest match, I am perfectly capable of beating you, while you can't even beat me after I've already HAD a match!
Truth is, the only reason I'm facing Michael Hayden is because Connor Mackenzie got screwed over, and unsurprisingly, Hayden doesn't care!
And it's here that I'm gonna REALLY call you two out on your shit.
Hayden, all I heard after Ryan Blood cost you the TV Championship was not, "Well, I should have been more aware of what was going on" or "It's not Michaels' fault, it's Ryan Blood since Blood cost me the belt." No, all I heard was you constantly blaming Michaels for everything from you not winning BattleBowl by yourself to there not being enough corn flakes in the box. And it kept going on and on and on and everybody in the stands and most of us in the back got sick of it.
And yet I also remember Michaels doing everything he could to give you a rematch because he knew you got screwed over.
So where's your righteous indignation when MACKENZIE gets screwed? Or do you only complain when the only person that can benefit is YOU? If it's not fair for you to get screwed over and not get a rematch, then how about you practice what you preach and give Mackenzie a rematch with your shot on the line? Or do you not want to do that because you don't think you can beat him on your own?
My father had a saying, and it goes, "If you don't care about injustice everywhere, you don't care about injustice anywhere." When the Pantheon was running roughshod in the company, I went up against them first chance I could. It cost me the tag titles and the Championship Of Honor. I refused to back down from ViVA, Inc.. It cost Shaelin and I several months of our lives. I took on The Fallen full steam ahead. It almost cost me both Shaelin AND my career. But you've never even come close to having to go through what I've gone through. I'll be honest: part of me hopes you don't have to.
But the difference between us, Hayden, is that I'm not a selfish, petulant child like you. I don't protest against something solely for my own personal gain. I don't give a million f***s about the consequences of me backing up the right side. You only object if you can get something out of it. Hell, when Shaelin got taken from me by The Fallen, Bull Ant and Moo Moo Ant and Jonathan Michaels offered to help me in any way they could, and they had absolutely nothing to gain from doing so and perhaps plenty to lose. You were too busy bitching about how JONATHAN MICHAELS took your title and how it wasn't fair that JONATHAN MICHAELS got all the praise from the fans and you didn't and BLAAAAAAAH BLAAAAAAH BLAAAAAAAAAAH. YOU NEVER OFFERED TO HELP!
So yeah, I'm going to call you out on your hypocrisy, and if I hurt your feelings, well, tough shit. I'm not here to make you happy. I'm not out to "box with God," as you put it. I have no desire to. In the two years I've been here, I've gone through more than my fair share of hell, Hayden, and I've found myself facing the devil himself. And when I did, I didn't make a deal with him, I didn't shout at him, I didn't dance with him, I didn't race him, I didn't run with him, and I didn't have any sympathy for him. No, I looked the devil in the face AND I SPAT IN HIS EYE! Because that's what I do. I've never been anyone other than Gus Richlen. I've never been Seth Drakin's student or his apprentice, and I never had any desire to. All I've had to be is myself, and THAT'S why I've achieved so much.
You? You win the lowest belt on the totem pole and mistake length for quality. You leech off of Jonathan Michaels just because you can't stand the fact that he's a better man than you. And you win Lord Of The Ring because another man got robbed. You must feel very proud of yourself.
I'm not out to box with God. I'm out to kick you the f*** off your little pedestal. You don't get to run around acting like you're superior to me just because of an ill-gotten win. You have your shot. Congratulations. You're going to learn the exact same lesson that I learned the hard way: It's one thing to have a shot. It's another thing to take out the meanest dog in the yard.
It's not the size of the dog in the fight. It's whether the little f***er has rabies or not!
*Hayden smirks.*
I may not be a detective like Aaron here, but even I can see that you have the worst Napolean Complex that I have ever seen. You puff out your chest, you proclaim to the world that you're the greatest, and any challenge to your status is cause for you to lash out.
Well let me break it down for you Gus, because honestly, I'm done with your shit. First of all, I did call Ryan Blood out for costing me the belt. After all, it was him that knocked me out and made me lose the title, so I'm not going to forget that any time soon. As to calling out Michaels, it's simple. He benefitted from the interference. Not only that, but the week prior, he forfeited a title match to Ghost Ant. So why bypass the Freakin' Awesome Title, a title you never won by the way, to go for what you described as "the lowest belt on the totem pole"?
So he could pad his resumé as being one of the greatest wrestlers in this company when he didn't need to. People already were cheering for him. They already wanted him to succeed. He went after my belt because he never held it, and he wanted to add another title to his collection. For
THAT
, yeah, I'll call him out on his bullshit.
As for being called a leech, no. I won't be insulted with that term. Michaels could not eliminate me from the Battlebowl, no matter how hard he tried. And I'll give credit where it's due and say I couldn't eliminate him. I didn't leech off of him, I proved I was his equal.
Now, as for helping you get revenge on The Fallen.... quite simply, I had other matters on my mind. Gookermania was headlined by yours truly after winning Battlebowl, so the only thing on my mind was winning the title. Combine that with taking on Ryan Blood and Jonathan Michaels, and helping you was the last thing on my mind. Does that make me a bad person, or does that make me someone who already had a goal in mind and wanted to achieve that?
Wait, scratch that. I'm already Number One on your shit list. Simply for calling you out on not defending your titles.
See, you had no problem with me before. These issues were never brought to the surface when they were happening. If you were really tired of my so-called "bitching" all those months ago, why has it taken you this long to grow a pair and say something? Better yet, why not say it backstage to my face rather than having to come out here and proclaim it to the world?
Simply put, f*** you Gus Richlen. Ever since I earned this title shot, you've done nothing but belittle me and try to downplay my accomplishments. Anything i've done is pure shit in your eyes, because it wasn't YOU who earned them and therefore it doesn't count. You insult Aaron Enigma, the very man you stole the FAWA Title from, for daring to do what you did by holding the FAWA and Interforums Title. You insult me because, well, you're just a jackass with a little man complex. And it's going to bite you in the ass when I defeat you for the belt.
I don't care if you spat in the eye of the Devil. I don't. Because when you steo into the ring with me, you're not facing the Devil. You're gonna box with God, and I can promise that you won't make it out of the first round. You're gonna pay for overlooking me, for downplaying my accomplishments to make yourself seem better. I am becoming the next FAWA Champion, the Hollywood Enigmas are winning the tag belts, and most importantly, we are restoring honor to those belts. And there's not a damn thing you can do.
And as for your little analogy there. You can have rabies all you want. It just means Old Yeller's getting put down.
*Hayden drops the mic and exits the ring to a mixed reaction from the crowd. Hayden stops at the top and flashes a two finger salute, smiling the entire time. Richlen raises his mic to reply but unfortunately the commercials cut him off.*