Post by BoilerRoomBrawler on May 4, 2013 0:03:36 GMT -5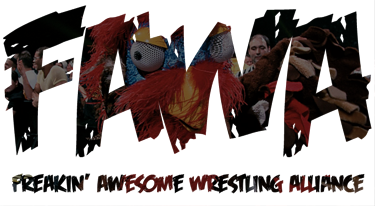 NITERAW
WORLD HEAVYWEIGHT TITLE #1 CONTENDERSHIP
AARON ENIGMA VERSUS CONNOR MACKENZIE
TH: Welcome back to the show, everyone. Up next is our main event of the evening as The Head Detective Aaron Enigma squares off against The Digital Dragon Connor Mackenzie for the Number One Contendership to the World Heavyweight Championship.
JK: Didn't they already face off before?
MM: Ladies and gentlemen of the FAWA Galaxy. The following match is scheduled for one fall. The winner will be the Number One Contender and will go on to face the World Heavyweight Champion at Summerfest.
Introducing the first contestant.
*Music starts and after a loud YEEEAAAAHHHHHH!!! The entrance erupts with fire, creating a ring that Aaron stands in. He looks around with a deathly serious glare before moving towards the ring. He walks calmly but with an intense look on his face. *
TH: He's been conspicuously silent for the past couple of weeks, but Aaron Enigma is still a brand of wrestling quality.
JK: He's just been training, that's all. He's watched over the weeks at his competition. He's ready to take on Connor Mackenzie.
MM: Entering the ring first from Concord, New Hampshire, weighing two hundred and thirty pounds, he is The Head Detective Aaron Enigma!
JK: Meanwhile, Connor Mackenzie - he's wrestled twice a night for how long?
TH: Interesting theory there, King. If Aaron Enigma really has been doing that, then Connor Mackenzie could be real trouble tonight.
*Enigma jumps into the ring and throws his magnifying glass and hat to the crowd just before the arena goes pitch black. The lights begin to dimly beat to follow along...*
*A pyro explosion goes off on the entry ramp as Connor slowly moves through the smoke, standing at the top, his face partially visible under the hood as he makes his way to the ring.*
MM: His opponent: from Halifax, Nova Scotia and weighing two hundred and twenty five pounds. He is your reigning FAWA Interforums Champion: The Digital Dragon Connor… Mackenzie!
TH: On the other hand, Connor Mackenzie seems to be on fire lately. A couple of losses being a mere setback to the Digital Dragon.
JK: I think he's burning out.
*Connor slides under the bottom rope then climbs the nearest turnbuckle. He pulls back his hood and lets out a yell, the arena lighting returning to normal.*
JK: He's worked so many matches that he's making mistakes and Aaron Enigma will be all too glad to take advantage of that.
*Connor takes off his cloak, removes his chain and dragon pendant, and rolls back to the floor to give to a fan.*
TH: But he also has had much practice in the ring. The man has incredible stamina.
*Connor returns to the ring, stretching himself out a bit before the bell.*
DING! DING! DING!
TH: And here we go with out main event of the evening![/font
*Connor and Aaron exchange glances at one another as referee Lloyd McFloyd calls for the two to start things off. Meeting in the ring just as it looks like they are about to get under way Connor offers a hand out to Aaron, mouthing words to him before looking down at his offered hand, then back to Aaron. Aaron looks out to the crowd then back to Connor before nodding lightly and offering the hand shake. A serious look on the faces of both of them but showing a mutual respect.*
TH: Equalizers till the end.
JK: Ugh, this handshake junk was old the first time he did it.
*With that, Connor and Aaron start to circle each other, coming in for a lock-up as Connor gets the early advantage with a headlock. Wasting little time, Aaron forces Connor off with a shove to the ropes. Rebounding off Aaron goes for a lariat but Connor ducks. Coming back off again he is instead met with a dropkick that sends him to the mat.*
JK: Ha! Enigma catching Connor square in the jaw with that one!
*Connor's hand nurses his jaw for a moment as he starts to sit up. Aaron moves around behind and comes at him with a stiff kick to the spine. Connor's arms go out wide as his face contorts from the shot as Aaron quickly follows up by hopping onto the nearest turnbuckle and hits a dropkick to Connor.*
JK: What a flurry!
TH: Aaron Enigma certainly one not to waste chances and that is certainly shown in his record. A two-time World Heavyweight champion and perhaps looking to add a third reign to his resume.
*Aaron goes for the pin*
TH: An early pin attempt here!
One!
Mackenzie with the kickout!
*Aaron nods his head as Connor slowly rolls onto his back once again after kicking out, chest heaving.*
JK: One has to wonder with Mackenzie given his match last week. If his ribs are hurting he might not be able to breathe as well as he normally would.
TH: Quite right King. His match with MiscreAnt last week certainly a punishing one on the Inter-Forums champion's rib area. We were wondering just how much that might affect him here, especially in these early goings.
*Aaron is back to his feet as Connor remains on the mat. Looking down at Connor, Aaron runs to the ropes, rebounds off and goes for a double-leg drop but Connor rolls just out of the way.*
TH: And Mackenzie showing some life now!
*Getting to his feet as Aaron nurses his backside and gets to a knee Connor comes at him and hits a backhanded chop which staggers Aaron back just as he was to get his second foot under him. Another chop is sent out before Connor rushes past Aaron to the ropes. Rebounding off he wraps his arm around Enigma's head and hits a running bulldog.*
JK: I can't believe I'm saying this but look out Enigma!
*As Aaron lays prone, Connor latches onto an arm and goes for a Labell lock. Aaron reaches out for the ropes with a free arm as Connor wrenches back.*
TH: Aaron Enigma in a tough spot as The Digital Dragon uses that technical grounding to stop The Head Detective's furious offensive barrage.
*As Connor continues to hold on Aaron uses his free hand, instead of reaching for the ropes, to start pushing himself up. Slowly he gets a foot under him, then the other before sending his free hand into Connor's ribs for a body punch. Releasing Aaron's other arm, Connor is grabbed and hoisted up for a thunderous back suplex.*
TH: Both men are down! What a match we've seen thus far King!
JK: As impressive as they both are, I'm pretty sure the FAWA Galaxy only wants one winner here tonight which means these two need to pull out the stops for the win.
*Lloyd McFloyd checks on both men as they are slow to get to their feet, eventually doing so before a ten count is needed. Aaron is the first to his feet and sends a body punch that connects, Connor comes back with a backhand chop as Aaron comes back with another body punch.*
JK: They're going back and forth now! One is going to beat the other senseless!
TH: A test of wills here perhaps and neither man giving an inch as they keep exchanging those punches and chops.
*Aaron spins, hitting a spinning back fist that rocks Connor back to rebound off the ropes. As he looks to try for a clothesline he is scooped up and hit with an Ace Crusher. Aaron's chest heaves as Connor is laid out near him. *
JK: This is for all the marbles Aaron! You and Hayden at Summerfest! It'll be a Hollywood explosion!
*Aaron stirs, slowly rolling and crawling to Connor before draping himself over him for the cover.*
TH: This is it! This is for the Number One Contendership!
One!
Two!
No!
*Connor kicks out while Enigma stamps his hands on the mat.*
JK: Enigma is growing frustrated. That's cost him more than a fair share of matches.
TH: The Digital Dragon is as hard to slay as ever.
*Both men get up when-*
TH: Connor with a small package!
ONE!

TWO!

KICKOUT!
TH: Another near fall.
JK: Enigma came close with the Brilliant Deduction, but it'll take more than a small package to pin him right after that.
*Both men get up again-*
TH: Connor with the Dragon Sleeper. He's got the Head Detective and the Head Detective is stuck!
JK: What did I say about getting frustrated? It's basic Art of War stuff.
TH: What is Connor doing?
JK: He's backing up to the corner. He's getting ready for the Dragon Drop.
*Connor reaches the corner, then twists Enigma around and quickly double underhooks his arms.*
TH: He's heading to the second rope. He's got Aaron. This could be it.
*Connor, standing on the second rope, Aaron standing on the bottom, jumps off for a facebuster.*
TH: And he lands the Dragon Drop. Down goes the Head Detective.
One!
Two!
Three!
DING! DING! DING!
MM: Here is your winner as a result of a pinfall: The Digital Dragon Connor. Mackenzie!
*Connor's arm is raised in victory by Referee Lloyd McFloyd.*
TH: Connor Mackenzie, the Number One Contender to the World Heavyweight Championship at long last.
JK: Aaron Enigma came close. These two wore the heck out of each other.
TH: The Digital Dragon is going to Summerfest. Could we be looking at our next World Heavyweight Champion?
JK: Well, he couldn't beat the current champ at Lord of the Ring, so I doubt it.
TH: A lot can change in a man given a few months. And a few more months are still to pass until then.
JK: I'll believe it when I see it. Hayden's gonna win at Wheel of Misfortune and he's gonna beat Connor Mackenzie at Summerfest.
TH: Time will tell but that's all the time we have for Niteraw this week. I'm Gorilla Tim Hoss, this was Jesse King.
JK: And we'll see you next week at Wheel of Misfortune!
NITERAW
CREDITS
Antihero
Boiler Room Brawler
Connor Mackenzie
Gus Richlen
Invader
Mister Socko's Brother
Orange Lantern Mulligan
Seth Drakin
Waffel113