Post by BoilerRoomBrawler on Oct 21, 2013 15:14:06 GMT -5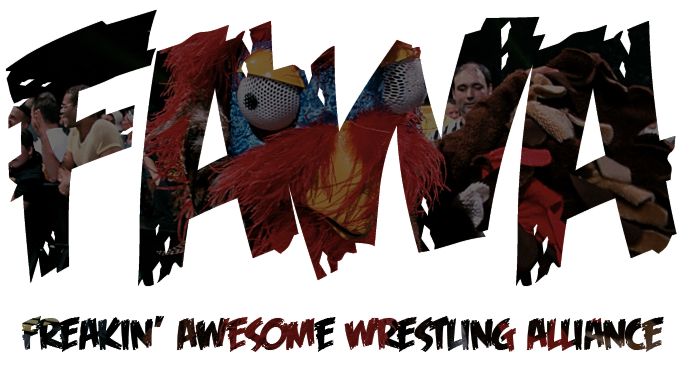 WHERE THE BIG KIDS STILL PLAY
THREAD 55
Established August 20, 2008
____________________________________________________


____________________________________________________

EVENTS
LORD OF THE RING
(King of the Ring-style Tournament; Winner Faces World Champ)

WHEEL OF MISFORTUNE
(all matches Spin the Wheel, Make the Deal; members submit match stipulations)

SUMMERFEST
(Summer theme; Money in the Bank or Botch Title Shot Matches)

BATTLE BOWL
(10-Man Battle Royal - winner faces World Champ at Gookermania)

GOOKERMANIA VI
(our Wrestlemania)

NIGHT OF THE WRESTLING ZOMBIES
(Halloween theme; "Trick or Treat" Match Stipulations; Masquerade Battle Royal for FAN Forums Title Shot; Chamber of Horrors World Heavyweight Championship)

HOLIDAY HAVOC
(X-Mas themed show; Ultimate Survival Challenge)

____________________________________________________
2013 LORD OF THE RING:
"HOLLYWOOD'S OWN" MICHAEL HAYDEN
History
2013 MONEY IN THE BANK OR BOTCH WINNERS
World Title Shot - Antihero
FAN-FORUMS Title Shot -Ryan Blood
TAG TITLE SHOT - Scott Martin (Cashed in on Niteraw 8/2/2013)
Pink Slip - The Dream & "Hollywood's Own" Michael Hayden (Connor Mackenzie then vacated the FAN-Forums title to allow both to retain their jobs.
History
2013 BATTLE BOWL WINNER:
TOBIAS MADOC KINGSLEY
History
____________________________________________________
MEMBERSHIP
WE ARE ALWAYS LOOKING FOR NEW MEMBERS TO JOIN THE FREAKIN' AWESOME WRESTLING ALLIANCE. SEND A PRIVATE MESSAGE TO BOILER ROOM BRAWLER IF YOU WANT TO JOIN.
I'd like to welcome you, the prospective new member, to the Freakin' Awesome Wrestling Alliance, where the big kids still play. You are probably reading this and considering taking that next big step: becoming a member.
It's a commitment to be sure, an often daunting one, but I assure you that creating fun and interesting gimmicks, writing exciting matches, cutting promos, and collaborating with fellow members on angles and feuds is well worth it.
So what can you do as a member? First, every member may have one or more characters whether they be wrestlers, managers, valets, etc. (Currently, there is a limit of four
active wrestler
characters per member. Because let's face it, if you create like a dozen wrestlers, it's kind of going overboard.) Click on the Roster Thread link up above and study the current roster so that you might make a character that sticks out.
Second, members are encouraged to cut in-character promos every week whether in the Promo Thread (see above for link) or as submissions to Boiler Room Brawler for FAWA Shows. Writing good promos can make all the difference in how well you do in the FAWA; when winners and losers of matches are put to a vote by the members, people who have written good promos tend to get more votes than people who have written bad ones. People who promo regularly also tend to get more votes than people who are silent for a long time. That doesn't mean that you should be writing something roughly the length of "War And Peace" every week, mind you; like most things in life, it's possible to overdo it. Don't worry, you'll get the hang of it.
Third, members are encouraged to write matches. It's the bread and butter of this e-fed, as every week is about reading exciting matches between roster members. Everyone feels at least a little intimidated when they haven't written matches before, but practice makes perfect and we have a Writers' Workshop thread for helping you along.
Fourth, members are further encouraged to collaborate with their fellow members on angles and feuds as well as the week to week promos that build them. If you're working a program with somebody, communication is very important. Hopefully the person you're working with and yourself are always on the same page, with the end result of the two of you making having fun and making one another look good by the time it's all said and done.
As a booker I mostly focus on officially booking matches related to the titles or else important matches. I otherwise let members go hogwild on writing angles, feuds, etc. No one will yank your arm to do anything around here, but what you get out of it depends on what you put into it. Activity is a factor that I consider in my booking decisions. A member who participates in the Promo Thread and in the main shows will tend to get preferential treatment, provided they don't do so in a way that's detrimental to other members' enjoyment of course. (An example of this is volunteering to write a match featuring your wrestler, and using it to make your opponent look pathetic and make you look like a million bucks. That's not good.)
Finally, recognize that it takes time to establish your character(s) and that it takes time to gain trust as someone to consistently vote for. It takes work, effort, and patience. You win some, you lose some, and if you stick to it, good things will come to you.
No one is an overnight success here in the FAWA. It's a journey, not a destination. A legacy of writing exciting matches, cutting thrilling promos, and collaborating on captivating angles will be more rewarding in the long run than counting title runs. Being a member of the FAWA is what you make of it.
I will emphasize that some level of steady activity is desired because it makes everything more exciting and therefore increases enthusiasm. It feeds itself. The standard of being an "active member" is submitting content for weekly shows or posting promos in the Promo Thread at least once every two weeks. Anything less than that is considered "inactive" which has consequences.
Inactive champions are stripped of their titles and active wrestlers will be booked to compete for the vacated title. If someone is considered "inactive," they have another two weeks before they are removed from the roster altogether. If they post in that interval, they will return to active status. If that member posts after being removed, they will be returned to the active roster. It's not hard to be an active member.
So welcome to the FAWA. If you join, I think you'll like it here.
____________________________________________________
SHOWS
NITERAW is the weekly FAWA Show except for Supercard shows (see the schedule above.) BRB often sends PMs with links to each member when he posts them out of courtesy.
BRB posts the cards every week. These matches generally reflect title scenes, number one contender matches, and qualifiers for special matches at supercards. Players may request matches, but they must be willing to write any match request they make.
Once a final card is determined, BRB PMs the card to every member so they can vote for who they want to win in every match (see below).
Match cards reflect the more significant matches for the week, but you are free to write squash matches with Free Agents (see Roster thread link above), bonus exhibition bouts with fellow FAWA Members (but work it out with them first), skits, promos, etc.
Finally, as booker BRB reserves the right to edit or outright reject anything that's submitted for a show if, in his opinion, including it as written would be detrimental to the show or the fed. During his first run as booker, he never did so, and generally speaking it will probably take something
really
bad for him to do so during this run. But it's a possibility, just so everybody knows.
____________________________________________________
VOTING
When voting, rate all contestants within a match on a scale from 1 (worst) to 5 (best) based on your opinion on the quality of their promos, gimmick, participation, role within an angle, etc.
BRB counts the votes (depending on who sent the card) - the contestant with the most points in a match wins. Ties will result in a draw, double count out, double disqualification, no contest, etc - it's up to the match writer or contestants.
Match results only determine the winner of a match. They do not reflect how the match is written, which is to be determined by the writer and/or the participants.
If all members within a match agree, they may forego the results of the vote in order to advance any greater agendas and angles they have. They must be sure to inform the writer if that writer is a third party.
Inactive members automatically lose to active members no matter how the vote turns out. In matches with multiple contestants, all will be divided according to being inactive and active. The inactives automatically lose but are otherwise ranked according to vote. By that same notion, all active members automatically defeat inactive members but are otherwise booked by vote.
____________________________________________________
CURRENT POINTS EARNED:
IN NEED OF UPDATING
PROMOTION
The FAWA thrives on a rich, diverse roster, and that means it always welcomes new members. Help out by spreading its presence on the Freakin' Awesome Network Forums and putting the following banner in your signature.
Bear it with pride and always be ready to invite new members if you interest someone.
If you want to help promote the FAWA even more, hype up upcoming supercard matches in your signature to boot. It's what the real federations do, so why not us on this forum?