Post by BrodietheSlayer on Jan 29, 2017 0:25:25 GMT -5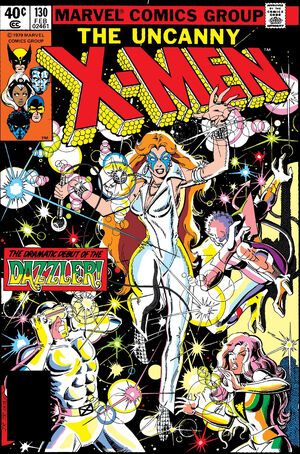 Uncanny X-Men #130"Dazzler"Cover Date:
Febuary, 1980

Writer:
Chris Claremont & John Byrne
Artist:
John Byrne

Team:
Cyclops, Wolverine, Storm, Nightcrawler, Phoenix, and Colossus (Professor Xaiver)
Villain:
The Hellfire Club, Emma Frost, Sebastian Shaw, Jason Wyngarde

Guest Star:
Kitty Pryde (Introducing: Dazzler)

Official Plot:
Continued from last issue...
Cyclops, Phoenix, and Nightcrawler have come to a Manhattan dance club to seek out the mutant in the are detected by Cerebro. Cyclops orders Nightcrawler to stay outside and watch secretly from the shadows for trouble while he and Jean search the nightclub for the new mutant. They are unaware that they are being watched by minions of the Hellfire Club, who have been sent out to capture the new mutant as well. Entering the club, Scott and Jean find the patrons to be very decadent. As they begin to canvass around to try and find the mutant, Jean finds the sordid thoughts among the crowd somehow attractive.
While at the Hellfire Club's headquarters, Jason Wyngarde and the head of the Hellfire Club, Sebastian Shaw -- get a report from the soldiers surveying the night club. Jason tells Shaw that he will personally see to Jean Grey and leaves to meet up with her at the night club. Shaw then checks in with the White Queen in Chicago. Emma reports back showing that she has captured Wolverine, Storm, Professor X, and Colossus, however the young mutant named Kitty Pryde has escaped. Unknown to her, Kitty has manage to sneak herself into Emma's industrial complex. Approaching Storm, she finds that something about the cages has dulled her mind. This however, doesn't stop Storm from being able to rip her costume and prove Kitty with a phone number to call. Kitty is soon spotted by one of Emma's guards and manages to flee the scene with her phasing powers.
Back in New York, Jean continues to search through the crowd when she is confronted by Jason Wyngarde, and she finds herself seemingly living the past of her ancestor once more. She is at a burned out church in the middle of a wedding ceremony between her and Jason, with Sebastian Shaw acting as priest. When they exchange vows, Jean is unveiled as the Black Queen and she lustfully kisses Jason. The seeming "time slip" ends and Jean finds herself kissing the modern day Wyngarde right in front of Scott.
Before Jean can begin to explain things, the musical act of the night appears on stage. She is a disco singer known as Dazzler who turns out to be the mutant they are seeking when they see her convert the sound around her into light displays. While outside, the car phone within the X-Men's Royals Royce begins to ring and Nightcrawler answers it. It is Kitty Pride calling for help, but before Nightcrawler can learn anymore he is attacked by one of the Hellfire Club soldiers in a specially made suit of armor to combat his powers. Two more of these soldiers also smash through the skylight of the dance club and attack Scott and Jean. Jean uses her powers to change their street clothing into costumes, shocking Scott at her display of power. The two find that these men's suit of armor have also been specially fashioned to combat their mutant abilities as well. They don't count on Dazzler entering the fight and distracting them with her light powers. This allows Jean to free Cyclops and the two switch opponents, easily defeating them.
The last soldier and Nightcrawler crash through the skylight and he is easily defeated by Phoenix. Nightcrawler explains to Cyclops and Phoenix that the X-Men in Chicago were ambushed. Cyclops briefly explains to Dazzler that she is a mutant and that they need her help in saving their friends. Dazzler is surprised by all this, but agrees to help. As they leave in the Royals, the men inside the club explode, destroying all evidence of the battle. As Cyclops drives away, he spots Jason Wyngarde and wonders what he was doing kissing Jean. As his car passes by, the shadow that is reflected does not match Wyngarde's body. After the X-Men drive off, Wyngarde laughs over the progress he is making with Jean Grey.
This story is continued next issue...
Brodie's View:
Once again, so much to say in this issue, which is effectively THE DARK PHOENIX SAGA: Part 2, and the continuation of the events of Part 1, while also expanding on it by introducing two more important mutants, and furthering the whole Jason Wyngarde/Jean Grey thing, as we start to see the trap slowly closing around both her and the rest of the X-Men. In short, while the events of last issue took place (and we reveal via a short check in on Emma Frost, who has Wolverine, Storm, Colossus, and Professor X captive), Jean, Cyclops, and Nightcrawler make their way to a run down disco in New York, hoping to find the other mutant Xaiver detected near the beginning of last issue. That turns out to be the evening's main performance, a growing disco star named Dazzler, who we reveal has the ability to manipulate sound into light. During this, Jason Wyngarde approaches Jean, and in a sudden time slip, we see her and Jason being wed in the courtyard of what is most likely the 17th Century Hellfire Club (With Sebastian Shaw as the reverend, who we'll get to fully in a second). Cyclops sees this, but is so flabbergasted, he tries to focus on the business of approaching Dazzler, when the Hellfire Mandroids, who attacked Nightcrawler (who was waiting back in the car, due to his demon-ish appearance), burst into the disco, and go after the other two X-Men as well. The X-Men quickly defeat the Mandroids, and it is revealed to Cyclops and Jean by Nightcrawler (who recived a phone call from Kitty Pryde) that the X-Men that went to Chicago were ambushed and kidnapped. Cyclops tells Dazzler (who helped them in the battle) that she is a mutant, and she agrees to help them rescue the other X-Men. They take off, as Jason Wyngarde watches, and laughs over the fate he knows eventually awaits them, whether they succeed in rescuing the other X-Men or not.
First off, let's go back to Sebastian Shaw, who is revealed as the de facto leader of the Hellfire Club, as we see Frost reporting to him. Shaw is a rich mutant who has the ability to absorb any force or energy directed against him, and direct it back at the person attacking him. For example, if you hit Shaw, he could absorb the force of your blow, and hit you with both your power and his, and this goes for things like Cyclops' optic blast or Storm's lightning bolts (or anything like that) as well. Shaw and the Hellfire Club (who we'll reveal in full over the next few issues) have been sitting in the shadows, observing the actions of the X-Men, while slanting certain things in their direction (Like sending Wyngarde to Scotland to mentally seduce a vulnerable Jean Grey). Once again, whether they succeed in this current mission against the X-Men or not, they will get exactly what they want, as The X-Men (or even another potential super group) will infiltrate their home base in NYC, unaware they they have a group of mutants and superhumans waiting to take them out, and being rich and being the 1% (Both in financial and political senses), they can easily cover their crimes up, as they have friends in high places that are members of their secret S&M/High Society club. They suffer few losses, only temporary setbacks.
Now, let's get into the focus mutant of this issue, Alison Blaire AKA The Dazzler. She was originally created by Tom DeFalco, Roger Stern, and John Romita Jr., and was meant to be a joint working agreement with Marvel and Disco king, Casablanca Records, who would provide a singer based on the Marvel created character. Originally, the character was meant to be based on Grace Jones, but Casablanca preferred the character to be based on the looks of Bo Derek (As a film about the character was also talked about). However, as Casablanca continued to try and make changes (and being that by the time that disco was on its way out), Marvel decided to end the relationship and just do the character the way they wanted, and UNCANNY #130 was meant to introduce her, but a solo book was the plan (And she would get it shortly after; the book lasting into the mid 80's). Of course, while her original appearances had her in full disco regalia, eventually she would be updated to fit the changing pop tastes throughout the 80's. Eventually, she would join the X-Men, but that wouldn't be until several years later (after originally being talked about for the spin off book, X-Factor, before being passed up for....well, we'll get to that in several issues, as I rant about retconning certain deaths of certain characters), and she would resemble Debbie Gibson more than Bo Derek as a disco queen. Still, let's stop to appreciate Dazzler as the total late 70's time capsule she originally was.
GRADE:
A