Post by BrodietheSlayer on Feb 7, 2017 0:51:47 GMT -5
Uncanny X-Men # 153"Kitty's Fairy Tale"Cover Date:
January, 1982
Writer:
Chris Claremont
Artist:
Dave Cockrum
Team:
Storm, Wolverine, Nightcrawler, Colossus, Kitty Pryde/Sprite, and Cyclops (Charles Xaiver)
Villain/s:
None...at least real ones
Guest Stars:
Carol Danvers & Illyana Rasputin
Official Plot:
The X-Men are cleaning up the grounds at the Xavier estate following the recent battle with the White Queen. While the others are hard at work, Kitty Pryde decides to tell Illyana a bedtime story. She entitles her story, "Kitty's Fairy Tale"
Kitty's Fairy Tale
In the Caliphate of Nhu Yorkh, the local constabulary seeks to apprehend two notorious brigands known as Pirate Kitty and her first mate, Colossus. Colossus uses his massive strength to open up an escape route, and Kitty and he make for the docks. They come upon a group of strangers. One is an ancient wizard sitting upon a flying carpet, and the other is a blind prince who can shoot fire from his eyes. The Wizard, Xavier, explains to Pirate Kitty that they are seeking a missing princess known as Jean. Jean is the inheritor of a great power that has corrupted her, turning her into an entity known as the Dark Phoenix.
Even as the travelers speak, Dark Phoenix arrives and attacks the troupe with massive star bolts. Xavier drives her away by way of a magic sphere, containing the pure and good aspect of Jean's soul.
As Phoenix flies off, Xavier convinces Kitty and Colossus to help them track her down. Kitty summons her pet, a gigantic black dragon named Lockheed. Everyone climbs on the dragon's back and Lockheed flies across the western ocean. They eventually come upon a grassy, peaceful island and they stop for a rest. A species of small, blue elves named Bamfs appear before them and begin hanging around Kitty.
Colossus, meanwhile, walks to the beach where he finds a bottle floating on the edge of the shoreline. He opens the bottle, releasing a powerful genie named Wind-Rider. Wind-Rider reveals Jean Grey and she were once close friends, but Dark Phoenix imprisoned her inside the bottle.
Rounding out the cast is a strange, hairy man known only as the Fiend-With-No-Name. The Fiend manages to offend everyone around him and gets into a scuffle with Colossus – a scuffle that comes to an abrupt end due to a burst of flame from Lockheed's mouth.
Suddenly, Dark Phoenix appears and begins attacking everyone. Xavier uses his magic to grant Kitty and Colossus the gift of flight. Wind-Rider and Prince Cyclopes concentrate their own energy powers on Dark Phoenix. While Phoenix concentrates her efforts on the assailants, the Bamfs appear and begin teleporting all about her, causing her to become distracted. This allows the wizard Xavier the opportunity to channel the good spirit of Jean Grey from the magic sphere back into her body, exorcising the malevolent Dark Phoenix for all time.
Brodie's View:
Alright! We're back to the regular issues now, and what a treat we come back to. You know, for all the flack I give Dave Cockrum as an artist, I couldn't imagine anyone else being able to draw an issue like this quite as well as he did, as his artistic style fits the tone of this story like a hand in glove. For those that don't know, most of this story is a fairy tale version of the X-Men, as told by Kitty Pryde as a bedtime story to Colossus' sister, Illyana. Little by little, the X-Men start to overhear the story Kitty is telling, and when she finishes, she walks out to find them all parked outside Illyana's room, and though she is highly embarrassed by this, it does take that next step in bonding the X-Men even further as a family, and solidifying Kitty's place in that family. Illyana would repay this favor to Kitty later in a future Annual story (Of course, Illyana would be quite older than she is here, but we'll get to the why of that in several issues.)
There are a few interesting things that came out of this story, besides Illyana's later version of a fairy tale. One would be the establishing that the BAMFS, little versions of Nightcrawler, actually do exist in an alternate dimension that Nightcrawler would visit in a limited series that would come out a couple years later. Another thing would by an actual version of Kitty's dragon (which was based off of the X-Men's jet, the Blackbird) that she would name after the fantasy dragon created in this story, Lockheed. However, we'll get to Lockheed in issue #167 and beyond, but I'll just say that despite this being a (mostly) one off fun story that doesn't really feed into anything, it ended up being a (Justly deserved) beloved story, and a real highlight of this period. In fact, I would say #150, this issue, and #162 are the highlights of the second Claremont/Cockrum run, not saying that any of the other issues are chopped liver. In fact, in the next issue, we return to the ongoing storylines, and we start to return the X-Men to space to pick up on storylines that have been sitting since #107/8.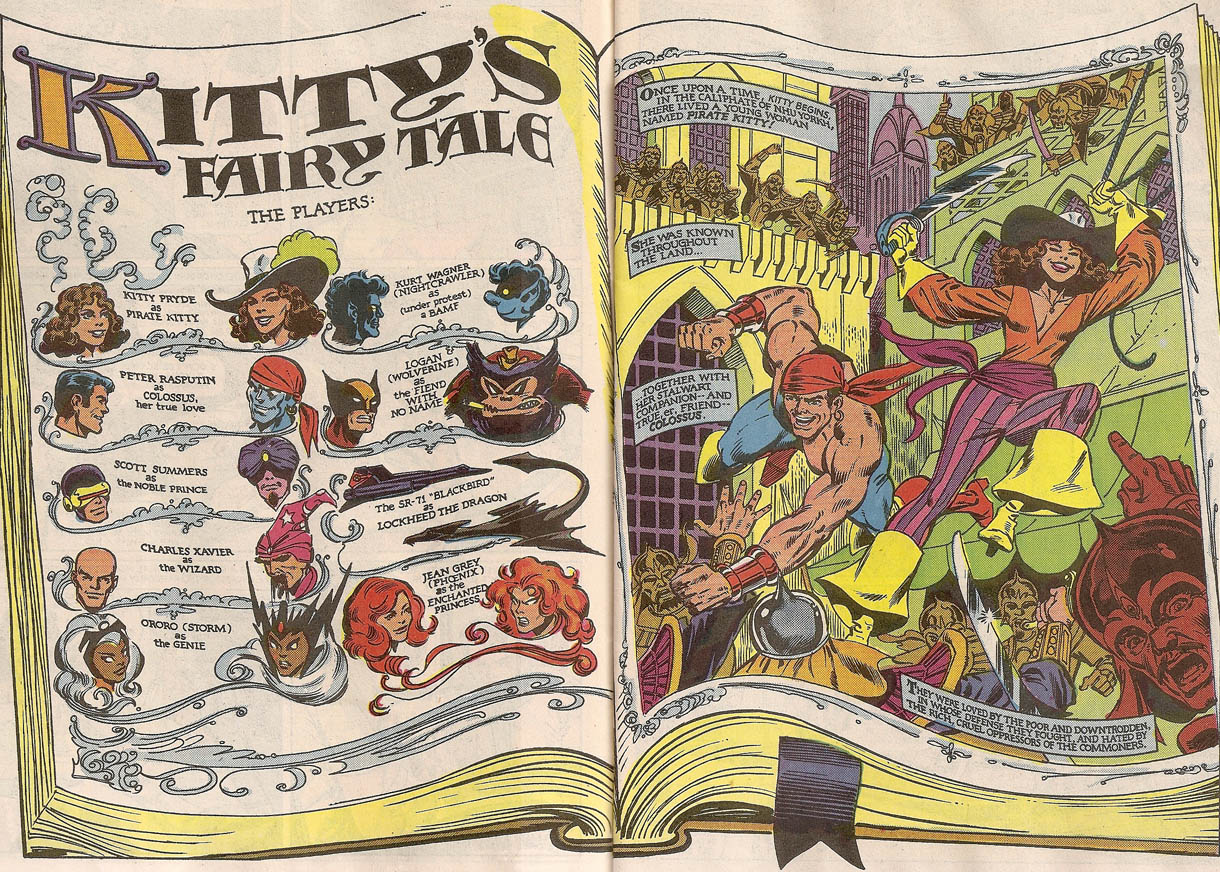 GRADE:
A