Post by adamclark52 on Dec 29, 2017 0:04:54 GMT -5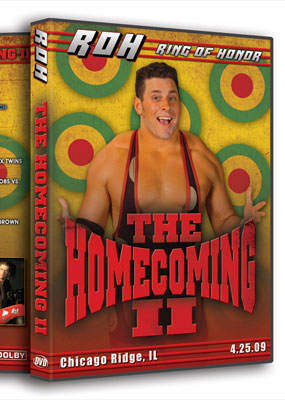 Ring of Honor "the Homecoming II"
April 25th, 2009
From the Frontier Fieldhouse in Chicago Ridge, Illinois
Commentators: Dave Prazak and Lenny Leonard
Chris Hero says he and Tyler Black are going to collide tonight and he will be victorious.
Rasche Brown vs. Egotistico Fantastico
This wasn't a very good opener. Rasche Brown would work better in the WWE. He was good at yelling at the crowd though. He was cheesy good. And Egotistico Fantastico was a punching bag.
Winner: Egotistico Fantastico
Alex Payne & Silas Young vs. Austin Aries & Rhett Titus
As much as I love Silas Young this match was pretty low on the card so what the hell was Austin Aries doing here? Did he piss someone off and this was his punishment? This was a pretty good match though. Silas was playing a face though, which is weird.
Winners: Austin Aries
After the match Silas turned on Alex Payne and all is right in wrestling.
The Dark City Fight Club say they are going to change the landscape of tag team wrestling in Ring of Honor.
Claudio Castagnoli vs. Jimmy Jacobs vs. Roderick Strong
Ever notice that the only cool thing about Roderick Strong is his entrance music? Having watched a few middle-era Ring of Honor videos in the last few months I'm also starting to notice that Claudio Castagnoli really wasn't anything special. I've watched sporadic videos over the course of his run and it seems like he went through a lot of gimmicks. This match wasn't too great but it ended really quickly.
Winner: Jimmy Jacobs
Jimmy Jacobs grabs the mic and berates everyone for making fun of his eye patch, which he's wearing because Delirious drove a stake into his eye the night before this. Tyler Black comes out and calls Jacobs out for playing with people. He says Jacobs' ego drove people away and he's going to expose Jacobs as a scared little boy. Jimmy goes to spike him but Black holds him back and leaves Jacobs pouting in the ring.
The Phoenix Twins vs. Dark City Fight Club
This was a bunch of "whatever". The one Phoenix Twin had a rip in his pants, which made it easier to tell them apart.
Winners: Dark City Fight Club
Promo for Injustice II.
Jimmy Rave w/the Embassy vs. Brian Danielson
Jimmy Raves hair was f***ing terrible in this match. It was all I could see no matter what was going on in this match. It was like bad nu-metal hair.
Winner: Brian Danielson via referee stoppage
Ring of Honor website promo.
Chris Hero w/Shane Hagadorn vs. Tyler Black
I keep giving Chris Hero chances but skinny or fat he never does anything for me. This was no different.
Winner: Tyler Black
As Tyler Black is making his way to the back Jimmy Jacobs (very unsurprisingly) attacks him. He rips him up with his stake pretty good.
2 our of 3 Falls Match for the Ring of Honor World Tag Team Championships
Kevin Steen & Jay Briscoe vs. the American Wolves (champions) w/Shane Hagadorn
This was pretty average stuff.
Winners of the first fall: Kevin Steen & Jay Briscoe
The second Fall was more of the same.
Winners of the second fall: the American Wolves
This wasn't a bad match overall but it just couldn't hold my interest. I think it was because seeing Jay Briscoe tag with anyone other than Mark just doesn't seem right to me. Same goes for Kevin Steen tagging with anyone but el Generico.
Winners of the third fall: the American Wolves
There's dissension between Jay and Steen afterwards. It feels better.
Motor City Madness 2009 promo
For the Ring of Honor World Heavyweight Championship
Jerry Lynn (champion) vs. Colt Cabana
I like Colt Cabana lots but he was too jokey to be wrestling "Mr. SRS Wrestling" Jerry Lynn. What they should have done here is have Jerry break character and play along or show a humorous side himself. At least for the early portions of the match. The most there was were a few cracked smiles. But Colt was never going to win here so they should have just gone "all-in". This was an okay match.
Winner: Jerry Lynn
Afterwards Jerry hands Colt a microphone and asks him for a speech. Colt says he had a vision to come back to Ring of Honor and win the title in Chicago. That didn't happen but even though he left for two years Ring of Honor it's still the best wrestling in the planet. Jerry thanks the Chicago fans.
___________________________________________________________________________________________________
This show didn't do much more me at all. It was "decent" at best. The Silas Young match was good and the main event was okay. But the rest just couldn't hold my attention.
This crowd was particularly nasty. One guy in particular. Thing is he was really funny so it didn't matter.
The only bonus features were more promo videos.