Post by adamclark52 on Dec 30, 2018 1:34:59 GMT -5
adamclark52s Top Ten Disappointments of 2018
_________________________________________________________________________________
10. My favourite bar is closing
Although it's not happening until April 2019 Coalition in Toronto announcing its pending closure in November really gutted me. It's a f***ing hole, the drinks are cheap, the one toilet's been broken for a year but it's perfect. Over the last four years it's become my favourite place to see bands play. I've gone something like fifty shows this year and I think fifteen or sixteen of them have been there. I've seen so many bands there that no one has heard of but were awesome. The first time I saw Harms Way was there. The first time I saw Klarg was there. The only time I saw the almighty SEX MASTER was there. I even went to the first Halloween party I've gone to in years there this last year, in full costume. It's not closing until April but some of the promoters who put on the shows I go to have already started booking their shows at different venues. The owners have vowed to reopen in a different location but it will never be the same. It was a dirty hole in the wall but it was the perfect place for me.
_________________________________________________________________________________
9. Unearth – Extinction(s)
This album being not very good wasn't a surprise. Their last album (2014's 'Watchers of Rule') is the best metalcore album I've ever heard so topping it was near impossible. What was a surprise is just how bad this album is. It's not just a step backwards; it's a step backwards…followed by a trip down a hill…landing into a river…of pee. In 2018 metalcore is as dead as a genre of music that there can be. Shit, metalcore was really dead almost ten years ago. So my heart goes out to a band like Unearth who are still soldiering on with such a dated sound. But they're still capable of good music (they're albums were getting progressively better), even in the twilight. But not here. This just sounds like a band going through the motions of fulfilling contractual obligations. Even their albums that I wasn't as fond of had a few songs I liked. But nothing on this album sounds interesting to me. Not a single song is something I'll remember. The last song (
One With the Sun
) is okay but then it ends with strings, which is a telltale sign to me that you're limping to the finish line. The artwork was cool. That was it. The rawness and aggression of Watchers of Rule was gone replaced with a more polished sound. But the songs were all so bland and lifeless. I really think this will be Unearths last hurrah but it wasn't even a "hurrah". It was more an example of how metalcore is dead in 2018. Something that will be used in a documentary about metalcore in ten years to show the genres last gasps.
_________________________________________________________________________________
8. Busted Open Changes
Busted Open has always been a pretty terrible show. No matter who the hosts are they're a bunch of marks who pretty much suck the WWEs dick to get...I don't know? Free tickets? The odd interview? Other promotions have really only existed in that shows mind when a) the promotion is doing a really big show or b) when the promotion send someone in for an interview segment. Like I said, it's always been a terrible show. But it's the only wrestling talk show that was on during my drive to and from work so I listened to it "because". That was really my only reason. It was getting a little more bearable late in 2017 when the one host Larry Dallas started going off the rails a bit. Which was probably his ultimate downfall. Because out of the blue in early January he was unceremoniously fired from the show so Bully Ray could have the co-host gig full-time. Bully Ray, who has a filter on everything he says so he can get his job back with the WWE. The show because unlistenable after that, worse than it ever was before. Mark Henry got added as a sometimes co-host too and he's terrible. But it didn't matter anyway. The show got moved to a new timeslot shortly afterwards to the one time I can't listen to it (weekday mornings from 9am until noon).
I really didn't care because I'm better off not listening to it. But the way Larry Dallas got treated towards the end (even if he himself is a total donk) made me mad because I see it happen all the time in real life and felt bad for the guy. He got another job shortly afterwards and got fired from that after four episodes.
And as much as I didn't really like it it was nice to listen to wrestling talk.
_________________________________________________________________________________
7. Nine Inch Nails – Bad Witch
I've said it again and again but Trent Reznor is a musical genius. In five hundred years the name "Reznor" should be spoken alongside names like "Mozart" and "Beethoven". So an absolute stinker of an album like this cuts even deeper. The only decent part of the album is drumbeat in the verses of the song
Ahead of Ourselves
, which is repeated in
God Break Down the Door
two songs later. I can't say much more than that and don't even feel like writing my usual wall of text going off on this album. I only need a few words to say that this album sucks.
_________________________________________________________________________________
6. GosT – Possessor
As a person who listens to mostly death and war metal I didn't think it was possible for music to be "too aggressive". But as I've branched out the last few years and started listening to more dance music I found out it was. GosTs music has always leaned on the angrier side of dance music but this album took it too far. Alongside the aggression his music used to always have elements of fun and melody to it. But that was done away with on Possessor and what was left was basically
Angel of Death
as dance music. It didn't work for me at all and I filed this album away very quickly.
If there was a positive to GosT in 2018 it was that he didn't cancel any shows in Toronto...because he never had any shows in Toronto booked. In fact I didn't even read about him doing many shows this year period. After this album came out he kinda fell off the face of the earth.
_________________________________________________________________________________
5. Goodbye Goldenrod
My old gold minivan made a couple of appearances in past Year-End lists of mine. Never in a positive light. But I still drove the old girl and I expected at least two more years out of her. Until my first day back from Christmas Break in January.
I was about five minutes from work when some guy decided to try and cross four lanes of traffic. He saw a bus two lanes over from me but didn't see me. "Boom". Right into the front passenger tire. Funny thing is I didn't even care. I REALLY didn't want to go to work that night so I didn't have to worry about that. And it was one hundred percent not my fault so I wasn't worried about my insurance going up. The only thing I was remotely pissed off about was that my insurance was probably going to give me five hundred dollars for my van, which I thought was bullshit because I knew I was going to have to buy a new van and couldn't even get a second hand piece of shit for less than three thousand dollars. That would leave me with something even shittier than what I was driving. So imagine my surprise when my insurance company gave me over eight thousand dollars for Goldenrods corpse. Still not enough to buy a new van but whatever.
I ended up with a new van that's not gold and doesn't have a completely caved in passenger side thanks to yours truly a few summers ago. But Goldenrod was still our family vehicle. The thing had taken us to Chicago, Green Bay, Buffalo, Montreal, Ottawa and who knows where else. I was really hoping our last moments together would be me lighting her on fire in a forest somewhere near Orillia and walking away crying, not looking back.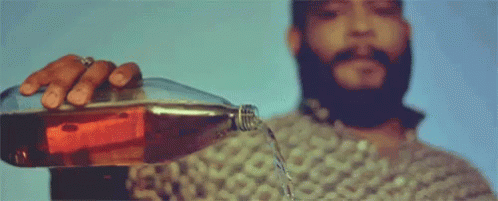 _________________________________________________________________________________
4. Video Games Live
This was one of those times where my expectations probably were just too high going in. I'd seen Video Games Live twice before and had had a blast both times. So I was super excited for this when was announced. Plus tickets were strangely inexpensive and I was able to get me and brother fourth row tickets for something like thirty dollars each. Maybe fifty dollars each? I don't remember. What I do remember is they were way cheaper than tickets as close as we were usually are. But I think we ended up being TOO CLOSE to the stage. I couldn't see anything on the video screen the entire show. Added to that it was the same setlist as the previous show we'd seen minus my favourite songs. They didn't play
Vigil
from Mass Effect that night. There's your fail right there. But they played two Pokémon songs… Also, I decided to cosplay for the show and after standing in the line getting ready for the cosplay contest after intermission they informed us all that the show was running late (which it was, there were some serious audio problems at the beginning) and they weren't going to bother having the. So they took down all our information and told us we'd all get the prize. Something like credits for their webstore. BUT I NEVER GOT ANY PRIZE. THEY LIED TO ME. It was just an evening of disappointment after disappointment.
_________________________________________________________________________________
Baldobomb-Paid-Impersonator
3. Pig Destroyer – Head Cage
This one was a real heartbreaker. Pig Destroyer are one of my favourite metal bands and they've never failed to impress me. And this album started out so promising with the intro (
Tunnel Under the Tracks
) and then the first two songs (
Dark Train
and
Army of Cops
) kicking the album off with an aural onslaught that topped anything I'd heard all year. For seven minutes there I thought I might be listening to the album of the year and possibly one of the best albums of the decade. Then after that was a bunch of songs. Not bad songs but not songs that could match the intensity of those first three. I could've lived with that but then the album ended with such a whimper (
the Last Song
) and a complete abomination (
House of Snakes
). That left me crushed. Melody? Solos? What the f*** is this shit? If I wanted to listen to
Blackened
by Metallica I'd listen to
Blackened
by Metallica. Their sludgy songs are usually their better songs but
House of Snakes
was just a boring plod. The album went from "f***ing incredible" to "there" to "what the f***ing f***?" in the span of thirty short minutes.
_________________________________________________________________________________
2. Hello darkness, my old friend
I don't usually get too deep into my personal life at all in these write-ups but I can't ignore the last eighteen months I've had. They've been pretty bad and it's probably better I talk about them anyway.
So I had a metal breakdown at work last summer (2017) and it festered in me for the rest of that year. Around Christmas last year my partner/"rock" at work had one himself and kinda quit, leaving me with some people I really hated. That didn't make things better. It ebbed and flowed for the first few months this year until hitting its peak in early-April. I'd told my wife I wasn't in a good place the previous fall and then didn't say anything for months so she thought I was fine. Until one night when I finally knew it was time to tell her just how bad I was. I really never told anyone anything. We went to the hospital and I got prescribed a moderate dose of a couple antidepressants. I didn't want to go that route because they've ruined my brothers life but I couldn't go on living the way I was living anymore.
It took awhile for those to kick in but in May (on my birthday believe it or not) things turned around and I found a new position at work. I left the job I'd hated for years (even though it offered more stability) to do something I wanted to do. Things were great all summer. I was happier at work than I'd been in years. It was probably the first time I was happy at work. I wasn't dancing in every Monday but I wasn't dragging myself in every Monday like I had been the last few years. Then in November my boss informed me that the department I was in was collapsing and told me to start calling around to find myself work because he was gonna have to get rid of me the coming Monday. It was like having my heart torn from my chest. I had left my old position on good terms and really only had a few days to find myself a new job so I did the only thing I could and called my old boss. It was humiliating having to crawl back like that but I accepted it. It didn't hit me until I finally went back there the following Monday how much I hated it. Seeing all the old faces, doing that shit work put me in a pretty real low again. And I was told upfront by my boss that I was at the bottom now, so not to expect any of the perks I'd had before. Not that there were any.
Thank God for the drugs.
In the month since I've been shipped around like chewed up meat from crew to crew. I've become a "bottom feeding Joe" and I have no idea where my job will be on any given week or if I'll even have one. I fully expect to get laid-off some time in 2019, for the first time in years. It makes sense because I'm entering my thirteenth year of employment with the company I work for this year.
So my problems are all work related. Family-wise everyone is good. My health and their health is fine, except for the obvious. But if it weren't for the drugs I doubt I'd be alive today.
_________________________________________________________________________________
For years I've been debating whether the Phantom Menace or Attack of the Clones was the worse Star Wars movie. I've gone back and forth on this so many times. Usually I'll think it's one, but then I'll watch the other one and my answer would change. But now the argument can finally be put to rest.
1. Star Wars Episode VIII: the Last Jedi
The Last Jedi is far and away the worst Star Wars movie. A movie so bad that it still tops my list of shit a year after it came out. Listing bullet points stating what's wrong with this movie would extend to the darkest corners of the Internet. It would break the Internet. And if would get me labelled a "crybaby fanboy". Because the best thing to do with something that's working just fine is kill it.
f*** you.
I refuse to let the bad press for this shit movie die. The world can't forget what a terrible movie this was and how many terrible decisions were made in it.
I did watch it once in 2018 when my sons got it for me for Fathers Day. I think they may have been mad at me for something or getting back at me for forgetting to pick them up from school or something. It was pure torture. But the damage this movie caused extends far beyond itself. When Solo came out in May it was lambasted by press and critics. It was called the movie that ruined Star Wars, a movie nobody wanted. It was a box office flop and has resulted in the cancellation of many planned Star Wars projects. But the funny thing is that Solo was actually a really good movie. Essential? No. But were three Thor movies "essential"? Have three Spiderman reboots in fifteen years been "essential"? Is any movie "essential"? What killed Solo wasn't Solo. What killed Solo was the bad taste the Last Jedi was still in everyone's mouths from only a few months earlier.
2019 is going to be interesting. Episode IX will be dropping in December and it's pretty much all on the line for Star Wars. It could be the movie that saves the franchise or it could be the movie that damages it beyond repair. But it won't be because the Last Jedi did all the damage.
Seriously, f*** this movie.
_________________________________________________________________________________
So I'll be back tomorrow with my list of good things that happened in 2018, as well as a few more shit things.