Post by eJm is Commercial Free on Dec 30, 2020 20:04:11 GMT -5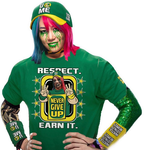 You had a champion who before being on the main roster beat your biggest women's star and the person who became the longest reigning champion on Smackdown in a triple threat match, a day after competiting in a Wargames match. In the Royal Rumble she eliminates 8 people and makes it to the final two before being eliminated.
Makes her main roster debut, beats up Becky Lynch, murks 5 women in an Elimination Cameronatch including the current champion and when all signs point to her beating Becky at Wrestlemania, she gets pinned clean.
But wait, Becky has to leave due to pregnancy! We put her in MITB, and she doesn't factor into the finish. The belt goes to Askua, who leads the locker room in cheers for Becky leaving to be a mom, and Shayna cuts a promo about how Becky's child is gonna be a loser, getting mega heat! Does she face Asuka who can fight for Becky's honor? No, she faces Natayla... for no reason and then is off the show until July.
Coming back you have stuff like Raw Underground going on, surely we can use this to make Shayna look like a killer and rebuild her for Asuka, who again she beat and has a ready made story as the two most dominate women in NXT history! The two cross paths where Shayna even says when Askua wins the belt back from Sasha, she'll be waiting.
Do we pay that off? Nope, let's stick her with Nia Jax... for reasons! And since then she's played second fiddle to this Lana/Nia storyline when they could be doi g so much more with her. Make her the Horseman killer! Have her face Askua in matches that would rule! Anything at all.
A baffling year of booking... just baffling.
The baffling booking of Baszler highlights the 2 biggest problems the company has . Someone's push will get stopped cold in it's track due to the arbatrary changing of the mind of an erratic 75 year old man.
Also HHH and everyone else who works in WWE assuming the people who watch Raw and Smackdown are also familiar with NXT and that bringing someone who was a big name in NXT is automatically a pop getter off the bat. Shayna's dominate reign in NXT might as well have been in WXW or ROH because the majority of fans watch those 2 promotions as much as NXT. For the most part Bayley,Paige and Asuka had the same problem when they initially came up.
Your latter point has a lot to do with the fact that NXT wasn't promoted as much as it could have to get people to watch it and follow future stars since, well, that's the key reason why they turned developmental into what it is now. They want to have people who make it to NXT make money from then and to the main roster because that would be what works.
The problem, and something shown even more now, is that NXT is treated as its own separate thing even though, and this needs to be said over and over again, it's more easily accessible for the average WWE fan than it ever has been before and they're not even trying to beat you over the head with it as they should.