Post by El Pollo Guerrera on Dec 23, 2018 23:50:13 GMT -5
Happy Birthday wishes on December 24th to:
US NXT/CHIKARA/ROH/IWA/PWG/indy wrestler Kassius Ohno (formerly Chris Hero, real name Chris Spradlin)!
US indy wrestler Aaron Neil!
US indy wrestler The Funky White Boy!
US indy wrestler Kassius Koonz!
UK wrestler/booker/promoter Ricky Knight (real name Patrick Frary, booker/manager of World Association of Wrestling, husband of Saraya Knight, father of WWE/NXT women's wrestler/GM Paige)!
Japanese DDT/Toryumon/T2P/Dragon Gate/AJPW/NOAH/ZERO-1/freelance wrestler Toru Owashi!
Japanese Michinoku Pro/freelance wrestler Takeshi Minamino (also wrestled as HAPPY MAN, Masked Shojuku Man, Esthetic Jaguar, and other gimmicks)!
Japanese HEAT-UP/KAGEKI/K-DOJO/BRAVES/indy wrestler Chojin Yusha G Valion (real name Takumi Abe)!
Japanese ALIVE/indy wrestler Daisuke Kamata!
Mexican AAA/UWA/IWRG/indy veteran wrestler Angel Mortal!
Brazilian-born Mexican IWRG/Crash/DTU/AAA/indy wrestler Zumbi!
Japanese-born Mexico IWRG/AAA/indy/Japan K-DOJO/FMW wrestler Douki (wrestles unmasked as Kansuke)!
Mexican IWRG/Toryumon/indy wrestler Rolling Boy!
Mexican indy wrestler Curry Extreme!
Mexican retired UWA wrestler of the 70's Pequeno Gigante!
Mexican former indy wrestler Rastaman!
Japanese retired AJW joshi Mari Mogami!
Japanese retired Tokyo Pro/indy wrestler Shinobu Tamura!
UK former women's wrestler Louise Lockwood!
Pakistani-born retired UK wrestler of the 60's and 70's, Armajit Singh!
Italian-born retired US/Canada WWF/NWA/WCW/indy wrestler Nick DeCarlo!
UK-born retired world-traveling wrestler Steve Wright (father of "Das Underkind/Berlyn" Alex Wright)!
US retired ECWA founder/promoter/former wrestler Jim Kettner!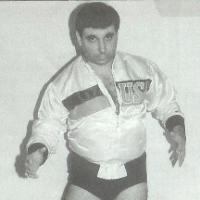 (here posing with wrestler Cheetah Master)
US retired WCW/indy wrestler Brad Anderson (son of Gene Anderson, wrestled in WCW as Zan Panzer)!
And remembering those notable wrestlers and personalities who have passed...
- "Iron" Mike DiBiase (1923 - 1969)
- "Oro" Jesus Javier Hernandez Solis (1971 - 1993)