Post by Dr. T is an alien on Jul 14, 2020 18:46:23 GMT -5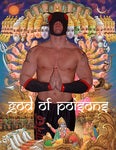 Myles Garrett may be a great pass rusher, but Juan Marichal is in the Baseball Hall of Fame and the longest entry on his Wikipedia page is the John Roseboro incident, so no matter what accolades he may achieve over his career, Garrett probably will never (and should never) escape what he did to Mason Rudolph last November.
Nor should he. He could have killed Rudolph and got lucky 4 times during the whole incident.
This is not like Andre Johnson cold cocking Cortland Finnegan or AJ Green losing his shit on Jalen Ramsey. Those were out of character moments, but Garrett was already developing a bad reputation and had already been fined multiple times last season alone. The first was for punching Delanie Walker. The second was for 2 late hits on Trevor Seimian, the second which destroyed the QB's ankle.
The Rudolph incident started with yet another late hit, this time twisting a QB down to the ground in a manner that could have destroyed yet another backup QB's ankle. The fact that he did not injure Rudolph's legs in any way with that hit was his first lucky moment. I don't blame Rudolph for getting mad, though he certainly escalated things with some cheap shots at Garrett while tangled on the ground, which I will not excuse.
The second lucky moment for Garrett came when he got to his feet and yanked Rudolph to his own feet by his facemask. That could have killed Rudolph by breaking his neck had he pulled at the wrong angle or twisted at the wrong moment. It's surprisingly easy to do, unfortunately. Life is frail. Fortunately, Rudolph escaped injury there, as well as during the 3rd lucky moment when Garrett ripped his helmet off without injuring his neck in any way.
Finally, the most obvious lucky moment came when he hit Rudolph in the head the way that he did. Sure, that would not have happened had Rudolph backed off but Garrett definitely was the more guilty party by far. There were so many things that could have gone wrong and Garrett easily could have killed him in that moment.